Bone broth
I have finally found the time and enthusiasm to make a bone broth at home (you can read my chicken broth blog here). We bought the bones from Feather and Bone in Marrickville.
Here is the recipe that I used. It is from Pete Evan's book Going Paleo.
BEEF BONE BROTH
about 2 kg beef knuckle and marrow bones (I used lamb bones from a lamb roast, plus the bones we bought from Feather and Bone).
1 cow's foot, cut into pieces (optional)
3 Tablespoons apple cider vinegar
1.5 kg meaty beef rib or neck bones
3 onions, roughly chopped (we have started having our organic produce delivered from Lettuce Deliver)
3 carrots, roughly chopped
3 celery stalks, roughly chopped
2 leeks, white park only, rinsed well and roughly chopped.
3 sprigs of thyme
2 bay leaves
1 teaspoon black peppercorns, crushed
1 garlc bulb, cut in half horizontally
2 large handfuls of flat-leaf parsley stalks
METHOD
Place the knuckle and marrow bones and cow's foot (if using) in a stockpot or very large saucepan, add the vinegar and pour in 5 litres of cold water, or enough to cover. Let stand for 1 hour to help draw out the nutrients from the bones. Remove the bones from the water, reserving the water.
Preheat the oven to 180 degrees celsius.
Place the knuckle and marrow bones, cow's foot (if using) and meaty bones in a few large roasting tins and roast in the oven for 30 minutes until well browned. Add all the bones to the stockpot or pan, along with the vegetables.
Pour the fat out of the roasting tins into a saucepan, add 1 litre of the reserved water, place over high heat and bring to a simmer, stirring with a wooden spoon to loosen any coagulated juices. Add this liquid to the bones and vegetables. Add additional reserved water, if necessary, to just cover the bones; the liquid should come no higher than 2 cm below the rim of the pan, as the volume will expand slightly during cooking.
Bring the broth to the boil, skimming off the scum that rises to the top. Reduce the heat to low and add the thyme, bay leaves, peppercorns and garlic. Simmer for 24-42 hours. Just before finishing, add the parsley and simmer for another 10 minutes. Strain the broth into a large container. Cover and cool in the refrigerator. Remove the congealed fat that rises to the top. Transfer the bone broth to smaller airtight containers (I use mason jars) and place in the fridge or, for long-term storage, the freezer. The broth can be stored in the fridge for 3-4 days or frozen for up to 3 months.
MAKES 3.5-4 LITRES
I use the broth in soups and risottos etc (you can use it in place of commercial stock).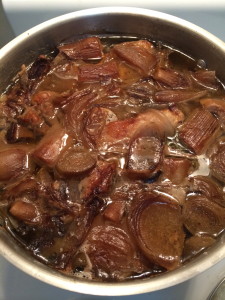 With love, light and appreciation
Helene
Nutritionist (BHS, Dip Nut), Reiki practitioner and author