Gluten-free chocolate cupcakes with 'buttercream' icing – and RIE independent play
I made these cupcakes this morning for my friend K's 40th birthday. The amazing thing was that Bubba G played independently, giving me the time and space to create them.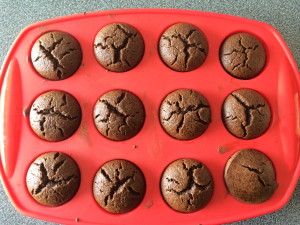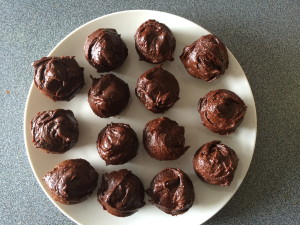 I learned about fostering independent play from Janet Landsbury and RIE. Here is a brilliant article by Janet on this subject: Stop entertaining your toddler (in 3 steps).
I am sitting here typing and trying oil pulling with coconut oil for the first time as I write this post. Bubba G is blissfully sleeping.
Anyway…. here is the recipe:
GLUTEN-FREE CHOCOLATE CUPCAKES WITH 'BUTTERCREAM' ICING
by Kibby Miller
For the Chocolate Cupcakes
1 tablespoon raw apple cider vinegar
1 cup homemade almond milk (you can also use full fat coconut milk)
¼ cup tapioca flour or arrowroot flour
1 cup gluten free flour (I used chickpea flour – or any other gluten-free flour)
½ tsp. baking powder (non-aluminum)
¾ tsp. baking soda
1 TBSP psyllium seed husks or flax seed meal (ground flax seeds)
½ tsp. sea salt
1/3 cup raw cacao powder
1 TBSP vanilla extract or vanilla bean powder (that's what I used)
¾ cup coconut sugar
½ cup extra virgin organic coconut oil, liquefied
Chocolate 'Buttercream' Icing
1/2 cup plus 2 TB. sweet potato purée – I used half a baked sweet potato (I always use homemade for this, so can't vouch for the canned variety. I bake my potatoes to bring out the natural sweetness as much as possible, then cool, peel and mash).
3 TBSP coconut sugar
15-25 drops plain or vanilla stevia liquid, to your taste (I used xylitol instead)
2 tsp pure vanilla extract
pinch fine sea salt
1/4 cup raw cacao or carob powder
2.5 ounces GOOD quality dark unsweetened chocolate – (I used most of a Green & Black Organic chocolate bar)
1/4 cup smooth organic sesame tahini (for nut-free)
2 TBSP organic extra virgin coconut oil, melted
For the Chocolate Cupcakes
Preheat oven to 176 degrees C. Lightly oil (I used coconut oil) a 12 cup muffin pan.
Combine the apple cider vinegar with the almond milk (or coconut milk) in a large bowl. Let the mixture sit for a few minutes to create a 'buttermilk'.
In a medium sized bowl, sift together the starch (tapioca or arrowroot flour), sorghum flour, baking powder, baking soda, psyllium seed husks or flax seed meal, sea salt, and cacao powder.
Add vanilla, coconut sugar and coconut oil to your "buttermilk" mixture and stir until well combined. Stir in dry ingredients and mix well.
Spoon batter into prepared muffin pan and bake for 20-22 minutes, or until tops bounce back.
Remove cupcakes from oven and let cool for fifteen minutes in pan. Remove from pan after that time and transfer to a wire cooling rack and let cool completely.
Frost with Chocolate 'Buttercream' Icing (recipe below)
For the Chocolate 'Buttercream' Icing
Place sweet potato, coconut sugar, stevia, vanilla and salt in food processor and process to blend. Add the raw cacao powder or carob powder and process until combined. Set aside.
In a small, heavy-bottomed pot, place the chocolate, tahini and coconut oil over low heat. Stir constantly until chocolate melts; remove from heat. Turn the mixture into the food processor and blend everything until smooth and creamy, scraping down sides as necessary.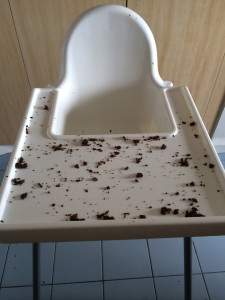 They are delicious, nutritious, and Bubba G liked them too!
With love and light