Book review – Everyone's got a bottom by Tess Rowley
As a parent, the topic of child sexual abuse is confronting. However, given the prevalence of this type of abuse in society, it it a topic that warrants consideration (ideally without fear). I have come across threads on parenting pages that recommended opening an age appropriate dialogue with children on this topic (to help keep them safe), and I was wondering how to go about it? I chatted to my cousin who is a psychologist and she recommended 'Everyone's got a bottom' by Queensland Family Planning.
I have started reading it to Bubba G (who is almost two) and she absolutely loves it. It is great because it teaches the correct anatomical names of male and female private parts with cartoon illustrations. It also teaches children that they should not keep any secrets about their bodies and that they should talk to an adult that they trust if they have any concerns. A fantastic tip that my cousin gave me was that in her family they have surprises (like birthday presents), but they do not have secrets. This concept is also presented in the book.
The book also teaches children an affirmation that is easy to remember 'from your head to your toes you can say what goes'.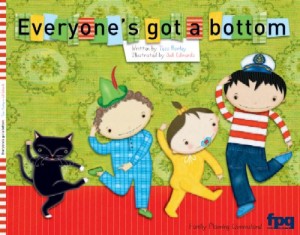 This is from the back cover:
'We all have bodies and we all want to keep them safe.

Everyone's got a bottom is a story about Ben and his brother and sister learning and talking together about bodies. It is a tool for parents and carers to gently start a conversation with children about self protection.

It's about children keeping safe in a style that is fun, positive and protective'. Family Planning Queensland
And this is from the FPQ website:
'Everyone's got a bottom is a collaboration between Family Planning Queensland, writer Tess Rowley, illustrator Jodi Edwards and experts from the early childhood and child protection sectors.

Tess Rowley is a Queensland author and educator who has worked in child abuse prevention for over 20 years. She has written children's books on personal safety, self esteem, children with a father in prison and children who have experienced domestic violence. Tess also writes humorous poetry and songs.

Jodi Edwards graduated from Griffith University in 1999 with a Bachelor of Visual Arts, majoring in Illustration. Jodi has won numerous state and national awards for her corporate design work and creative illustrations during her eight years working with Creative Plantation'.
You can purchase this awesome book from our favourite local book seller: Phoenix Rising Books.
With love and light